Moon Through Clouds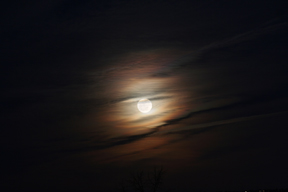 Click Image for Larger Version
I was conducting a night lab where we were supposed to be looking at features on the Moon through telescopes and binoculars. Unfortunately, we had lots of clouds that night, but we muddled through the lab anyway. And I got to take some really cool pictures of the colorful clouds with the moon through them.
Technical Information

Object
Full Moon through Clouds
Common Name
Luna through Stratus Clouds
Date, Time, & Moon
April 15, 2006; 100% Full Moon
Location
SBO Telescope at CU Boulder
Optics
124 mm lens
Camera
Canon Digital Rebel 350D XT
Exposure Details
2.5 seconds; ISO 100
Optical Correction
No Dark- nor Flatframe-Correction
Camera Position
N/A
Guiding
None - Tripod Mounted
Processing Details
None
Image Size
Moon is approx. 30 arcmin in diameter
Magnitude Depth
N/A
Notes
None.