Constellation - Böotes and Corona Borealis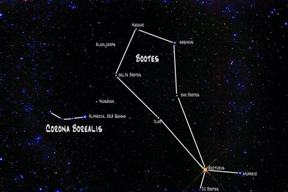 Click Images for Larger Version
This was like my fourth attempt at imaging this region of the sky. The first time, clouds rolled in. The second time, I discovered after imaging for 3 hours that my lens was out of focus. The third time, clouds rolled in. This was it or bust. So, I'm glad that it actually turned out decently.
There's nothing too exciting in this region of the sky, other than the bright blue star Alphecca of Corona Broealis that contrasts amazingly well with the bright red/orange star Arcturus in Böotes (which, by the way, is (I believe) correctly pronounced as "BOE-tees").
When finding these constellations in the sky, usually you should look for Arcturus, and then branching upwards are Izar and rho Böotes, which, to me, look like an ice cream cone. The scoop of ice cream at the top is formed by Seginus, Nekkar, and delta Böotes, while the cherry on top is Alkalurops. The cone leaks out the bottom, with Muphrid, and the ice cream scooper is off to the side as Corona Borealis. Other people say Böotes looks like a kite, but I prefer the ice cream cone story because it helps with Corona Borealis, which I find necessary to locate to find Hercules.
| | |
| --- | --- |
| Object | Constellation - Böotes and Corona Borealis (And Surrounding Area) |
| Common Name | -- |
| Date, Time, & Moon | |
| Location | SBO Telescope at CU Boulder |
| Optics | |
| Camera | Canon Digital Rebel 350D XT; ISO 100 |
| Exposure Time | |
| Optical Correction | Dark- and Flatframe-Correction |
| Camera Position | Normal Camera Lens |
| Guiding | Passive Clock Drive on Equatorial Mount |
| Processing Details | PhotoShop CS - Aligned and averaged color channels; Levels, Curves, and added star glow |
| Image Size | ?? |
| Magnitude Depth | ?? |
| Notes | Fourth friggin' attempt to image. |