Moon with Foreground Trees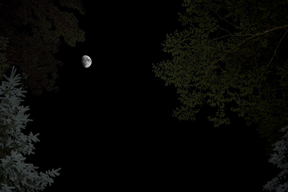 Click Image for Larger Version
Looking back on some of the moon photos I had taken, I liked the "Moon with Mars" scene I did back in 2003. It is nearly impossible to actually expose both the moon and any foreground object properly in the same shot, so I had never tried to actually re-do that photo. Until Summer 2007.
I used my relatively new Canon 430EX flash unit set on full power with the diffuser on, set my camera on a tripid, and attempted to duplicate the shot I had taken over 4 years earlier. I then superimposed a photo of the moon in because the moon wasn't out that night. The result is this image.
Technical Information

Object
Moon with Foreground Trees
Common Name
--
Date, Time
June 1, 2007
Location
Cincinnati, OH
Optics
34 mm lens; moon through 16" telescope
Camera
Canon Digital Rebel 350D XT
Exposure Details
1/200 second; ISO 100; and flash for foreground trees
Optical Correction
No Dark- nor Flatframe-Correction
Camera Position
N/A
Guiding
None - Tripod Mounted
Processing Details
None
Image Size
N/A
Magnitude Depth
N/A
Notes
None.